Budget Brick Review - Click Brick Minifigures
Hello there and welcome to the blog section.


This is where I talk about various brick and comic related things. They'll probably be at least one post per week and some weeks one post per comic!


One of the things I'll be doing is reviewing budget 'major brand' compatible construction toys and that's what I'm using this first entry for.


So, do you know what time it is?

Clone minifigure blind pack review time!




Now, I like Click Brick. Every set of theirs I've picked up until this point has been a good one. The one minifigure of theirs that I have is pretty nifty and I've never had a bad word to say about them.


Okay, their lever pieces are a bit wobbly but other than that I've never had a bad word to say about them.




I usually see these packets for between £1.50 and £2.00 and have never picked any up before now. The main reason being that some of the figures bare a striking resemblance to Best Lock figures and Best Lock figures have never hugely impressed me. The torsos are good for sticking replacement decals on, just as long as you stick with blue or black torsos and the legs can often not be rubbish. That's really the best I can say about their minifigures. I have some Best Lock sets to review later, so you'll see what I mean.




The Entertainer were selling them for £1 each or three for £2, so not being able to resist ridiculously huge price reductions I picked up three. (Unfortunately that offer's finished now.)


Anyway, here's a photo of one of the bags with a Best Lock figure and a Click Brick figure. I swapped the Click Brick figure's arms with another pair long, long ago, but otherwise it's complete and original.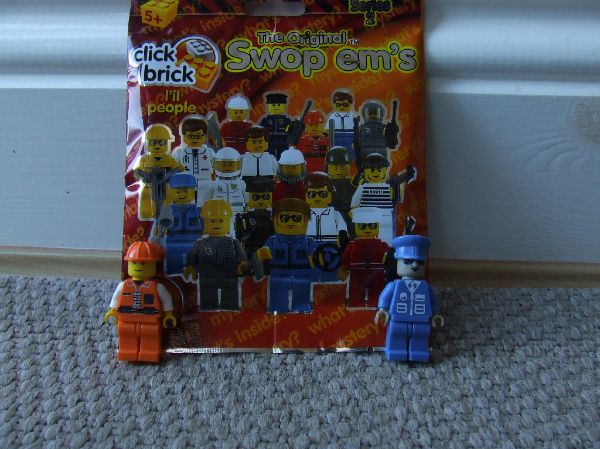 In case you haven't guessed the Best Lock figure is the one who looks like a blurry zombie with a pointy nose and a bad hat.




The back of the packet isn't particularly interesting.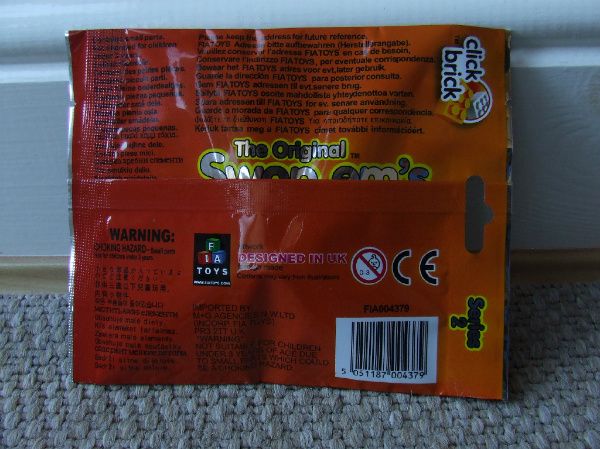 See? Not interesting in the slightest.




These bags are huge though. Here's a photo of one with a Lego blind pack, a Character Building blind pack and a Mega Bloks blind pack for comparison.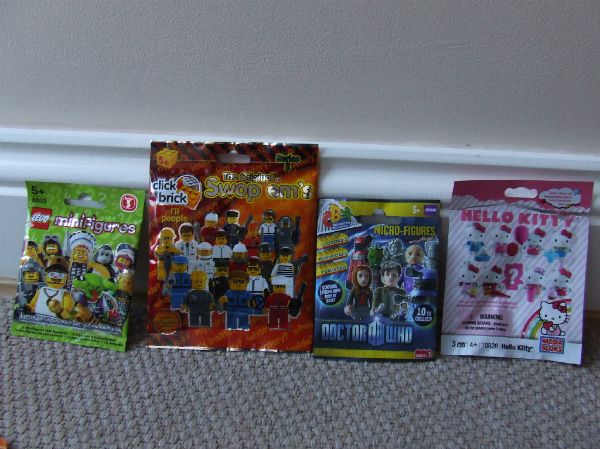 Huge!




I opened the first huge bag and what came out was this: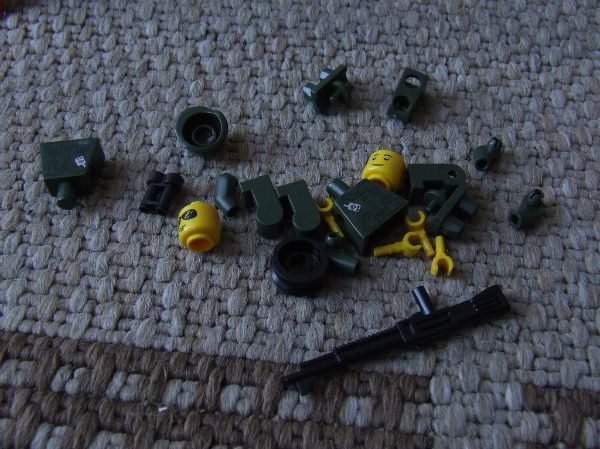 Two minifigures!

I didn't know they contained two minifigures each. Why does it not say that on the packet? I would have picked one up long ago if it did.


Really, it does not say that there are two anywhere. You'd think that if you were trying to sell a product that you might want to mention somewhere that you include twice as many of the product in a packet than your competitors do. Wouldn't you? I'd mention it somewhere for sure.


After assembling the minifigures (those arms are a very snug fit by the way) we have these two guys.




The figures are pretty good, the binoculars are, well, exactly like Lego ones and the gun is... the gun is... The gun is absolutely ridiculous. How many people are supposed to hold a gun that size?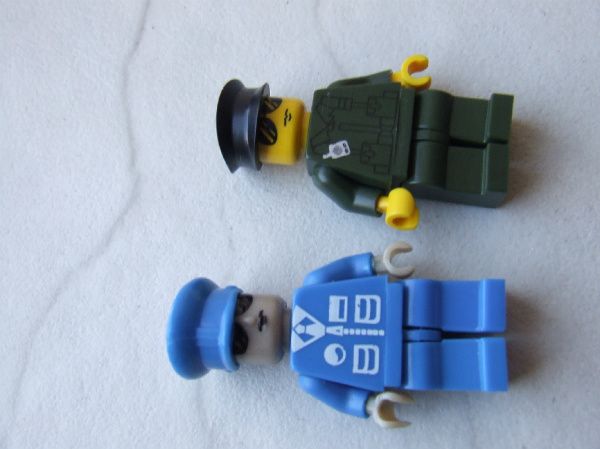 As you can see my fears about there being any relation between the Best Lock figure and these ones were completely unfounded. I mean, really, look at those two. You can't get much different.


Also in the packet was a sheet showing all the available packs. It is a very, very cheeky sheet.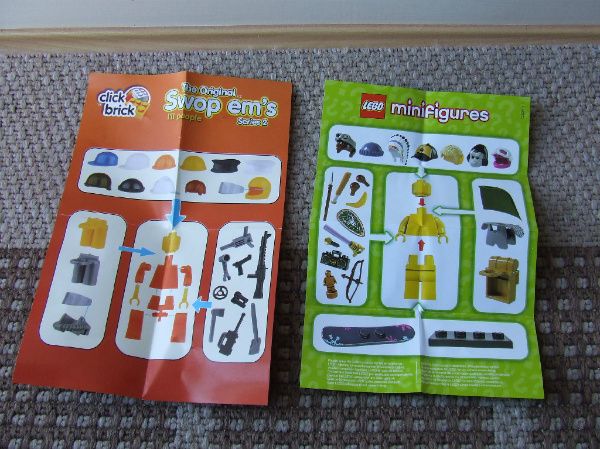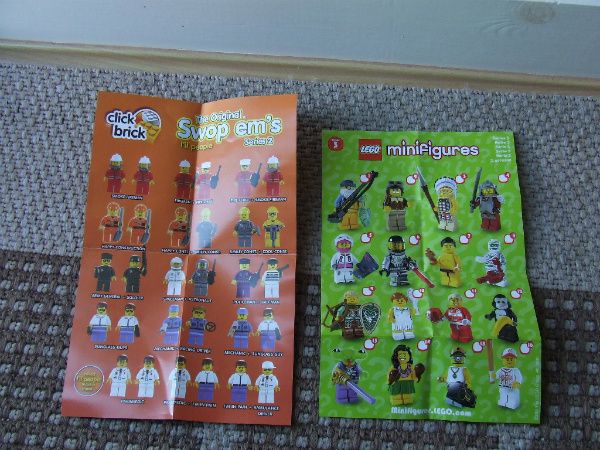 My next packet contained these two.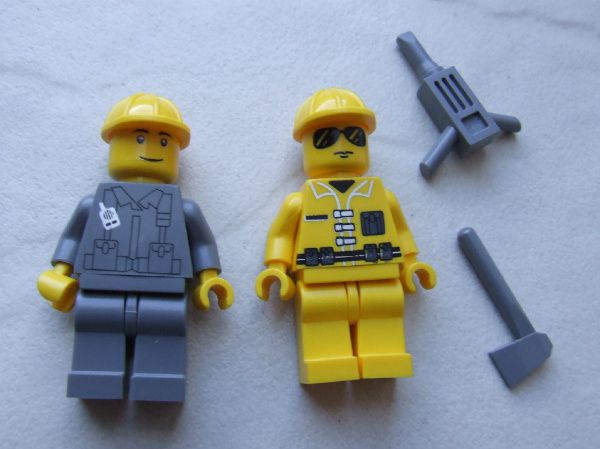 One of these workmen appears to be wearing the military uniform in grey, which in one way is pretty neat, because now you can have multiple units in different colours. In another way it's kind of odd, because why is someone doing construction/maintenance work in a military uniform?


Alas, that is a question we shall probably never know the answer to.




The other figure is wearing the same outfit as my other ClickBrick figure, just in yellow instead of orange.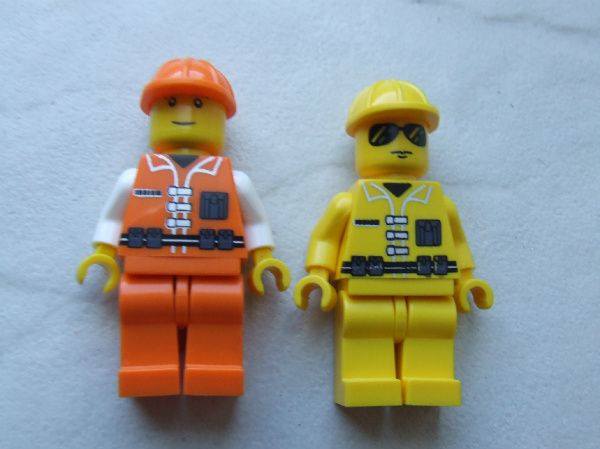 The last bag had these bits in.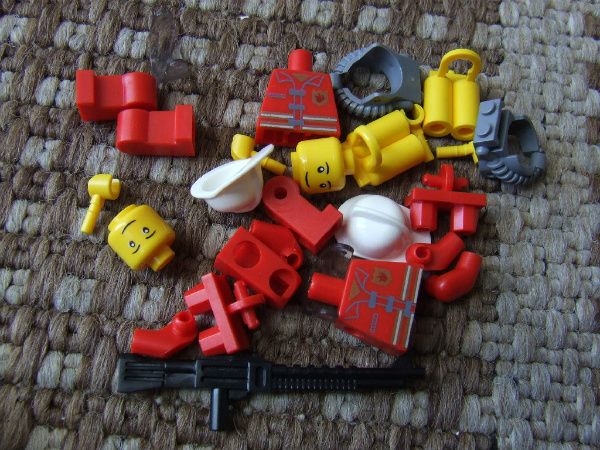 Well, most of those parts. I don't know why the monstrously huge gun is in shot there. Probably because I'm an idiot.




And here we have them, the full team.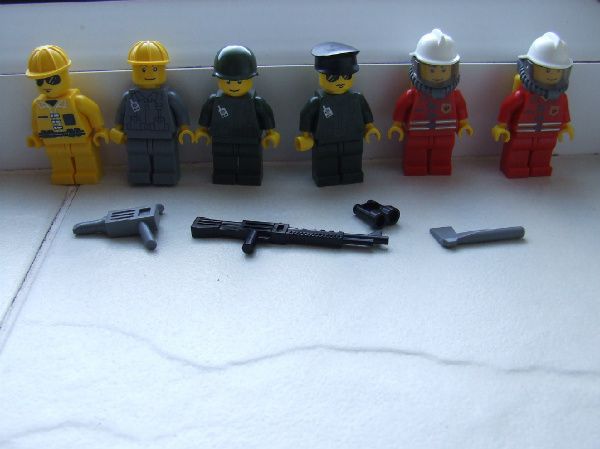 I got all six of these guys (have you noticed that there are NO female minifigures on that sheet I posted, by the way?) for £2, which I could have spent on one Lego, Mega Bloks or Character Building blind pack. That's not bad at all, even if one included a stupid looking gun (seriously, I'm not letting that one go).


Now, here's the controversial bit, although the designs are not particularly original, imaginative or varied these figures do have one thing over some of the Lego blind-packs other than price and that is that all the colours are actually perfectly consistent and well matched to other ClickBrick and Lego parts.


I can't say the same for all of the Lego ones I've picked up. One Lego figure used a different shade of yellow for the head and the arms, neither of which matched the standard lego yellow. These six together cost me the same as that one figure. I'm not entirely sure how I should feel about that one really.


I'm going to give these figures a 6 out of 10, because while they are well produced and consistent that gun is stupid, there are no female figures and they're all City type characters. Please ClickBrick, put a knight, a cowboy, a time travelling suitcase salesman or something like that in to series three and at least one female figure. Do that, don't let the quality drop and I promise I'll give you at least an 8.5 next time.




Note: Since writing this blog post I bought another six, because they're such a bargain. I got the criminal, the police officer, the astronaut, more workmen and some medics. The quality of which were all pretty consistent with the sets I reviewed here.
Monday, 19 March 2012, 12:00 am,
Return..
We are sorry but due to spam, we have made the commenting system javascript powered, please enable javascript to comment. We are sorry to be a pain